Did you know that up to 80% will have back pain during pregnancy and 25% will have pelvic girdle pain.
 As hormonal changes occur in the body throughout pregnancy the ligaments soften and the increase weight gained through the growth of the baby can cause extra strain on all joints within the body, but particularly in the low back, thoracic spine, Sacro-iliac and hip joints.
These changes can cause pain from stretched ligaments, malaigned joints, swelling, overworked muscles and pressure on neural tissue, causing a number of painful issues as shown opposite.
Research has shown exercise during pregnancy to have huge beneficial effects including a reduction in pain.
Exercise is recommended during pregnancy.
Research Shows that there are huge benefits to safe exercise throughout the course of pregnancy, these benefits include
Helps the body to adapt to changes within the body
Leads to shorter labours, as the body is better prepared for labour.
Less birth complications
Quicker recovery after delivery
Reduction in the intensity of general aches and pains associated with pregnancy
Reduction in the number of days sick leave needed associated with back and pelvic girdle pain during pregnancy.
Reduction in stress incontinence in later years by strengthening the pelvic floor muscles
Reduction in  pelvic and back pain by strengthening the core
Improved posture so the baby is held better within the pelvic girdle and spine is held in better alignment
Improved cardio-vascular fitness
Feel more energised and get better sleep
Make new friends and share their pregnancy experience
Only 15% of pregnant women undertake the recommended level of exercise throughout their pregnancy?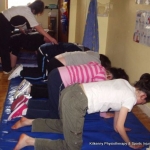 Our  pregnancy  pilates classses are instructed by Chartered Physiotherapists, so excellent tuition and good pregnancy advice is guaranteed.
Throughout our Ante-Natal or pregnancy pilates programme we aim to educate new mums-to-be  to ensure they are exercising safely and correctly during and after pregnancy.
You want to do the best for you and your baby !
Exercise is good for you, and good for your baby!
These pilates classes will be held in the Kilkenny Physiotherapy and Sports Injury Clinic in Kilkenny City, and in Core Clinic, Clontubrid, Freshford, Co. Kilkenny.
Post Natal Pilates
Is an excellent way to get back in shape after pregnancy. You are welcome to bring your new baby along to our post natal classes on a Monday morning.
WHY?
Exercise safely with Excellent Instruction
Help the body recover from changes  during pregnancy
Reduce the risk of stress incontinence by strengthening your pelvic floor muscles
Improve your posture and regain alignment of the spine and pelvis by strengthening your Core Abdominal muscles
Reduce back pain caused by changes during pregnancy
Flatten your tummy after pregnancy
Improve energy levels and help your body and mind relax
Make new friends and share your pregnancy experiences
Help bond with baby while taking some time out for yourself
Our Post Natal Pilates Instructors are all Chartered Physiotherapists so excellent tuition and good advice is guaranteed
When can I start Pilates after a cesarean section?
Pilates can be started 9 weeks after a cesarian section providing your doctor has said it is alright
When can I start Pilates after birth?
If you have had a non eventful pregnancy, and a normal birth it is safe to begin pilates as early as 4 weeks after your baby is born
For Further Pregnancy Information https://www.antenatalonline.ie/