Our Valuable Team Members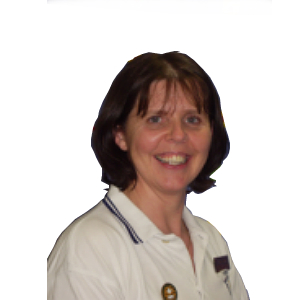 Theresa McGinn comes from Co. Tyrone. She qualified from University of Ulster with a BSc Honours degree in Physiotherapy in 1986.
She has worked in hospitals in Galway, Tyrone, Cork, Kilkenny and Carlow. Whilst working in the public system she also worked in private clinics in Cork and Derry.

In Cork Theresa specialised in Neurology and Neurosurgery which gave her an excellent background into movement analysis; and created in her an acute awareness of abnormal movement patterns and how to approach them, this is an excellent basis for treating all sports injuries and musculo-skeletal problems.

On arrival in Kilkenny in February 1994 she commenced work in the O'Neill centre but was only in the city 2 months when the Co. GAA approached her to work with the County hurling and Football teams; and hence was born Kilkenny Physiotherapy and Sports Injury Clinic. The clinic grew rapidly and in November 1996 Theresa reluctantly had to leave the O'Neill centre and work full-time in the clinic.
Theresa remained as sole physiotherapist in charge of all the KilIlkenny County teams until 2000 when family commitments overtook her and she reluctantly gave up the Senior team. She kept on all other teams until 2005. Theresa now looks after all the underage development squads, the Minor Hurling and Football teams, the Intermediate Hurling panels and our football teams.

She has undergone intensive post-graduate training in many areas. click here for more information.

Theresa loves all areas of physiotherapy but has drifted towards injury prevention through bio-mechanical assessments and analysis of movement, enabling her to accurately determine the root of the problem and treat accordingly. She especially enjoys treating children and teenagers with a view to injury  prevention.
Theresa is also a qualified pilates instructor and uses this approach to treatment in a lot of cases, as well as giving classes in the Core Clinic, Clontubrid near Freshford in North Kilkenny.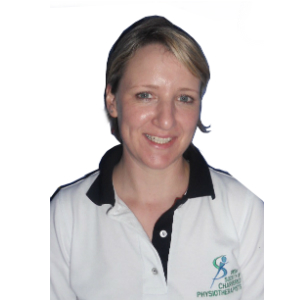 Maria Walsh comes from Wexford. She qualified in th UK with a BSc Honours degree in Physiotherapy.

Like many good physiotherapists Maria took a round about way to get to where she is today. She qualified as an Orthopaedic Sports Massage and Remedial Therapist in 2002 and from this was further inspired to increase her knowledge and skills and went on to complete her BSc (Hons) Degree in Sport Science and MSc in Physiotherapy in the UK.
During her studies Maria gained invaluable clinical experience in the areas of musculo-skeletal, neurology, cardio-respiratory, paediatrics, care of the elderly and women's health.
Since returning to Ireland in 2009 Maria has been involved in providing physiotherapy treatment to GAA clubs both in Wexford (but we wont hold that against her) and Kilkenny. She looked after the Waterford ladies Football team who made it to an All Ireland final in Croke Park in September 2010, and she has been heavily involved with the FIA at an underage level.
In the last 4 years Maria has been involved with the kilkenny minor hurling and football teams, and attends many matches in a professional capacity.
Since starting here in September 2009 Maria has played an active part in the team, participating in in-service training and carrying out post graduate training. For more information click here
Maria is one of our main Deep Dry Needling Specialists in the clinic having completed her training in the Travell and Simons method of deep dry needling. She has taken a keen interest in shoulder injuries.
Maria worked in nursing homes for a number of years and is very sympathetic towards the elderly providing them with age appropriate physiotherapy for all conditions.
Maria has done her post graduate training in Bio-mechanic assessment and orthotic prescription.
Although originally from Wexford Maria has moved to live in Kilkenny and so hopefully her loyalties in the GAA will move too. She is a keen cyclist and is acutely aware of the effects of prolonged exercise on the body.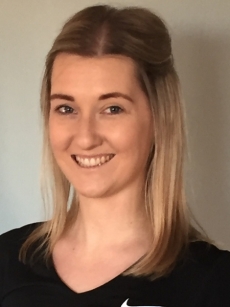 Victoria Moore or ' Toria' comes from Co. Wexford. She graduating from University College Dublin and then moved to New Zealand for 18 months to gain further experience in musculoskeletal physiotherapy.
During this time she became a certified Stability Plus Pilates Instructor while working for Peak Pilates and Physiotherapy in Auckland. Certification for this full time, clinical pilates course is only granted upon passing a practical exam in both mat and equipment based pilates and after an apprenticeship teaching pilates for 12 months.
On returning to Ireland Victoria settled in her home county and has spent the past two years in a busy private clinic where she has developed her rehabilitative skills helping acute and chronic pain clients.
Victoria has also completed courses in deep dry needling and orthotic prescription, both of which she will use extensively in her new role. She has completed a Certificate in Spinal Manual Therapy this year which was taught by Specialist Musculoskeletal Physiotherapists from Australia and has equipped her well for the wide variation of clients she will meet in Kilkenny.
Her clinical interests include sports medicine, pilates conditioning, injury prevention and exercise prescription for acute & chronic pain clients.
She has worked with various sports teams for the GAA at both club and county level and also for the New Zealand U20 rugby team during the U20 World Cup in 2014. Last year she was the Physio for the U21 Wexford Footballers and regularly worked with the Wexford Senior Football team. She is also the co-ordinating Physio for the Wexford group of Arthritis Ireland.
Outside of her working hours, she enjoys going to the gym, riding her horse and doing pilates!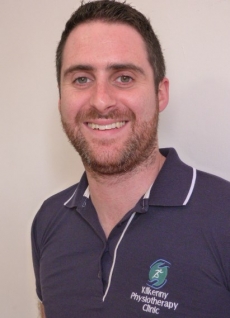 Chartered Physiotherapist Brian Condon comes from Co. Carlow. He graduated from University College Dublin in 2008 receiving his Bsc. Hons in Physiotherapy. Since then Brian has gained a vast amount of experience in private practice and has worked in busy clinics in Carlow, Dublin and Sydney.
Whilst working in private practice in Dublin he was the physiotherapist for various gaelic football clubs in and around the city, and has been involved with our inter county hurling teams since he joined our staff, and he has a keen interest in all sports.
He also worked for the H.S.E. as a community physiotherapist and was involved in mainly neurological rehabilitation helping patients recover from conditions lsuch as Parkinson's Disease, head injuries and Stroke victims.
Brian specializes in treating neck and back problems and completed his Manual Concepts course in Spinal Mobilisations back in 2009. He uses mainly manual techniques and likes to utilise deep dry needling and acupuncture to help in his treatment plans. He completed his dry needling course through the British Medical Acupuncture Society in 2010.
Outside of work Brian is a sports fanatic and set up his own sports blog and did some freelance sports journalism before moving to Australia in 2016. He is back playing GAA again since he settled back in the South East.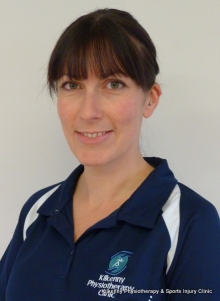 Georgina Enderson comes from Co. Cork. She graduated in 2006 with an M.Sc in Physiotherapy from Queen Margaret University Edinburgh after previously having completed a B.Sc Hons in Science from Trinity College Dublin. As a new graduate she gained experience in musculoskeletal outpatients and acute care of the elderly in Scotland before heading to Canada in 2007..

What she thought would be one year turned out to be eight fun filled years in which she fell in love with skiing and the great outdoors, volunteered at the 2010 Winter Olympics and gained invaluable experience in a wide variety of areas of physiotherapy. Georgina started off working in Canada's second largest hospital where trauma, elective orthopaedic , thoracic and cardiac surgery were her specialities.
Georgina then gained invaluable experience in her 2 years in a busy private practice specialising in car accidents, workplace injuries, sporting injuries and rehabilitation post surgery. It is here that Georgina gained an appreciation for conducting full thorough assessments and now prides herself in getting to the root cause of problems and following treatment through right to the end. This fits in well with the ethos of Kilkenny Physiotherapy Clinic.
In 2010 Georgina then joined the physiotherapy team at Providence Health Care in Vancouver where she worked in acute care and rehabilitation after joint replacement surgery, traumatic orthopaedic surgery as well as lower limb amputations.
Her work alongside Foot and Ankle surgeons in the BC Foot and Ankle Clinic where she provided post surgical consultations to people after foot and ankle surgery is a great asset to Kilkenny Physiotherapy clinic as we have a specialist area in lower limb biomechanical assessments and the provision of orthotics .
Chronic Pain is an area of interest for Georgina and she gained vast experience in the chronic pain clinic working with a multidisciplinary team of occupational therapists, psychologists, social workers, physiatrists and psychiatrists and she gained a passion for treating people with longstanding pain.
After 12 years away from Ireland Georgina is excited to be back on home soil. As well as being a dedicated physiotherapist Georgina is also a mother and outdoor enthusiast. In her spare time she can be found outdoors hiking, biking or trail running. Having recently traded the Rocky Mountains for the Slieve Blooms she has been enjoying spending time on the less intimidating gradients. This interest helps her understand the passion Ireland's cyclists, triathlon enthusiasts and marathon runners have for their sport.
Georgina is currently studying to become a STOTT Pilates instructor. She has always been a very strong advocate of Pilates and is excited to have the opportunity to combine her love of teaching with Pilates.
Linda WIlliams our Women's Health specialist has rejoined our team in 2013, having worked with us many years ago.
Linda qualified as a Chartered Physiotherapist from the Dublin School of Physiotherapy in 1971 after which she spent three years in Edinburgh working two of these in a large, well run general hospital called Bangour General Hospital – a great place to start a career, and the third year in the Northern General Hospital which specialised in Rhumatology. Sadly Bangour General no longer exists.
Following her spell in Edinburgh she spent two years in Kenya working for the first seven months running a combined Cheshire Home/St. Vincent de Paul Home followed by the remainder in Nairobi Hospital which was a general hospital and great fun with a very cosmopolitan staff. The physiotherapy dept was private and run by an Irish physiotherapist.
On returning home to Ireland she worked as a physiotherapist for a few years in the Meath Hospital, Mercer's Hospital (sole charge) and even a short spell in Castlebar General Hospital.
Finally, in 1981 Linda moved to Kilkenny and joined the growing staff of St. Luke's General Hospital. Over the years she became involved in the Women's Health area of physiotherapy which was a growing specialist area. This involved taking ante-natal classes, treating patients on the wards post – natally, dealing with the various pelvic girdle pain problems which have increased hugely in recent years as well as pelvic floor and continence problems. She also worked in the out patient Dept and on and off in the general wards. In 2008 she completed the Jo Laycock foundation course in continence in the UK, and later an advanced course in the examination and treatment of the pelvic floor with Maeve Whelan. She partook in several other courses in the Women's Health area over the following several years also. Having worked in the Women's Health area in the Avida Physiotherapy Kilkenny until February 2012 she joined the Kilkenny Psysiotherapy and sports injuries Clinic in Maudlin St. Kilkenny in October treating pelvic floor problems in men and women.
.
Linda accepts referrals from all the leading obstetricians and gynaecologists in the area as well as directly from the public.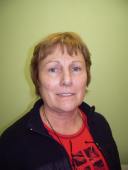 Colette is a fully qualified Chartered Physiotherapist with a broad range of experience having worked in the health service for several years where she worked in the Community in the Kilkenny and Carlow areas.  Naturally in this field she became experienced in a huge range of fields.
Colette resigned from the health board in 2009 and now devotes her time to private practice in Carlow during the day, and still comes to our clinic when required.
Colette provides accupuncture for our clients in the clinic. She has trained extensively in the area of Chinese Accupuncture, and did much of her study in the East. She also uses Western based techniques and her treatments are based on scientific research. The fact that Colette is primarily a physiotherapist is a huge asset in this field as she has a fantastic knowledge of the anatomy and physiology of the body and is able to incorporate her physiotherapy assessment, treatment skills and exercise prescription into her accupuncture sessions.
As Colette is from Carlow we dont hold her as a huge threat in the hurling field, but we are wary as young Carlow teams are becoming more competitive.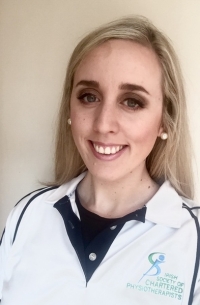 Aoife Walsh comes from Kilkenny City. She went straight from her studies at Loreto Secondary School to the University of Limerick where she achieved BSc (Hons) degree in Physiotherapy.
During her studies, Aoife gained invaluable clinical experience in a variety of areas of physiotherapy including musculo-skeletal, neurology, cardio-respiratory, paediatrics, care of the elderly and women's health,
Following her graduation, Aoife had a yearning to travel to work overseas with her degree and chose New Zealand as her destination. While in New Zealand, Aoife was based in Auckland and worked in the private sector. Her work was centred around providing treatment and rehabilitation programmes to acute and chronic conditions, as well as providing work-based strengthening programmes to facilitate the smooth return-to-work of people out of work due to injury.
While in New Zealand, she completed her APPI Pilates training and taught Pilates to 1:1 clients, small groups right through to advanced classes. She also places a huge emphasis on Pilates training and its importance in injury-prevention.
Aoife is a thorough and dedicated practitioner and possesses a keen interest in the diagnosis and treatment of musculoskeletal conditions using a patient- and goal-centred approach. She has a vast amount of sporting experience spanning from working with various sport clubs, including New Zealand Football, several senior rugby clubs in Auckland, hockey teams and GAA teams in at home and abroad.
Aoife plans on completing her Dry Needling course this year to further add to the many skills she possesses as an efficient and effective therapist.
When not working, Aoife enjoys being active and keeping fit. She is a qualified lifeguard and swims regularly, she enjoys running, resistance training, yoga and of course Pilates!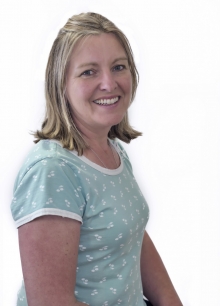 Maire will most likely to be your first point of contact at the clinic. The physiotherapists may make you better, but Maire runs the show. She'll always greet you with a smile, and do everything she can to make you feel welcome in the clinic.
Maire is extremely helpful and will ensure that any queries you may have are adequately followed up (in other words she'll keep after the rest of us until we do the job). Maire has been with us for years and knows the clinic inside out, so feel free to call her up and ask her whatever you need to know. If she cant help you,she'll find someone who can.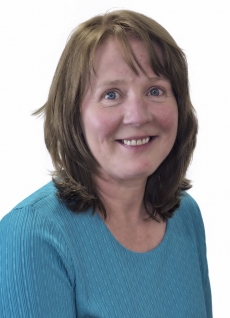 Margaret joined the staff in 2014. She lives in Thomastown and like all our staff is heavily involved in sport and particularly the GAA.
She looks after the accounts within the clinic and ensures that the bills are paid.
Margaret also covers the reception area and has many administrative duties within the clinic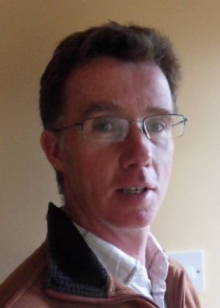 Vincent Dunphy joined the staff in 2010. He is the Practice Manager and was responsible for the initial computerisation of the clinic records, which has helped immensely with the smooth running of the clinic. He occasionally covers the reception desk and helps with the day to day running of the clinic, but he usually works behind the scenes dealing with any issues that may arise.
As his first love is hurling he is in tune with most of the clients in Kilkenny. He is a keen swimmer, and as he was a lorry driver in a former life he has had his share of back issues so is sympathetic to our clients. Vincent set up our accounting and invoicing systems, so if you have any concerns in that regard, just talk to him.