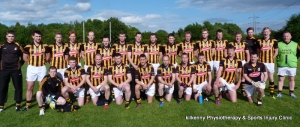 So what have this group of players got to bring them to a Semi final that other Kilkenny teams have not had.
We've been involved with Kilkenny football teams for a long time now, and this last few years has seen a distinct change, and I for one admire those involved. When we say we are working with the Kilkenny football team, the usual response is one of shock or disdain, and a scathing "Do Kilkenny have a football team?"
Well let me assure you, they do, and their last 2 matches provided an entertaining display of football in matches which were extremely competitive with a huge effort from all involved. The fact that this team has to travel to the UK to compete in the English Championship shows just how dedicated these lads are. It's not easy to pack up 3 out of 4 weekends every June and travel abroad to play matches, and this comes with it's share of physical problems as the traveling lends itself to tight hamstrings and sore backs, which keeps me on my toes.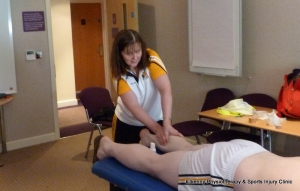 When we arrive in England, while the players chill out after the flight, I set myself up in an hotel conference room to massage, tape, mobilise and stretch the lads in preparation for the match, and I can tell you, that is a tough job, I am usually exhausted by the time we leave for the pitch.
So why are we winning matches now, when we never did before.
Well we have a great support system with our County Chairman and secretary who do great work in getting everything together, and a great back room team. We also have a brilliant manager and trainer in Christy Walsh and Peter Dukelow, and we have a panel of about 35 lads who want to make this work. The training has improved and increased, and a taste of success had given the players the belief in themselves to give it their all this year.
We also have a good Physio team, and we work hard to provide the lads with the support they need. As a Tyrone GAA woman, I love my football and have often despaired when watching Kilkenny players chase the ball carrier, only to reach him, and then not know what to do because they have no hurl to block or hook with. A good shoulder over the sideline seemed way beyond them. But no longer! the tackles and blocks, the shoulders and solos are coming thick 

and heavy now, and I am thoroughly enjoying the matches.
So I'm hoping the County will get behind these players, and that they will press on and bring a different type of silverware back to Kilkenny this year, and maybe then we can get to play football competitively in Ireland again.