Kilkenny Physiotherapy & Sports Injury Clinic
Kilkenny Physiotherapy Clinic was established in 1994 and is currently the longest established independent physiotherapy clinic in Co. Kilkenny. We now operate out of three centres:
7 Maudlin Street, Kilkenny City –

Our main clinic opposite the back entrance into Langtons.

Clontubrid, Freshford, Co. Kilkenny. –

Our clinic & Pilates Studio opposite the school.

4 Castle View Appts, Dublin Rd., Kilkenny  –

Our Pilates Studio & Gym beside Axa Insurance
You can either drop in or give us a call @ 056 7752258  
Why Choose Us?
We employ only Chartered Physiotherapists to work in the practice and currently have 8 on staff.

We offer an in-depth Assessment and accurate Diagnosis before developing an effective treatment plan so you need less sessions. 

We tailor your exercise program so you can continue your treatment at home and offer long term advice and exercise regimes to help prevent injury recurrence.

Finally, We Genuinely Care about our patients.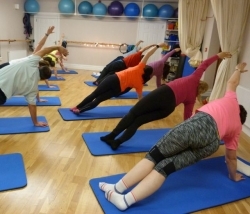 ---
What is Pilates?
For details on upcoming classes please click  BOOK ONLINE to access dates, cost etc. If you are making up a class please check our facebook page Kilkenny Physiotherapy for changes in calendar
Rehab Pilates: Monday 3.30pm
Teen Pilates: Monday 4.30pm
Beginners /Improvers: Monday 5.35pm
Sports Pilates: Monday 6.45pm
Beginners / Improvers: Tuesday 8.05pm
Neck Pilates: Tuesday 6.00pm – not running this term
Beginners Express Pilates (45mins): Wednesday 1.05pm
Beginners: Wednesday 8.05pm
Intermediate: Thursday 7.00pm
Beginners: Thursday 8.05pm
Improvers: Friday 9.15am
PREGNANCY & POST NATAL PILATES
Pregnancy Pilates (Ante Natal): Tuesday 7.00pm
Pregnancy Pilates (Ante Natal): Thursday 6.00pm
Post Natal Pilates (bring baby): Friday 10.15am (stay for a cuppa and a chat after)
Held in Kilkenny Physiotherapy & Sports Injury Clinic Pilates Studio
Directions: 100m from McDonagh Junction / St John's Church on Dublin rd., next door to AXA Insurance
FRESHFORD PILATES CLASSES – Clontubrid Classes – 086 6611163
Beginners Pilates: Tuesday 11.00am
Intermediate Pilates: Wednesday 7.30pm
Improvers Pilates: Thursday 7.00pm
Beginners Pilates: Thursday 8.05pm
Beginners Pilates: Friday 9.00am
Directions:
From Freshford – Ballyragget Rd., 1mile branch off (L) on L1809 Clontubrid & Cullahill. Travel
1.0 miles to Stone House at crossroads on (R).Turn (R) at cross, then driveway on (L).
From Ballyragget – Freshford Rd. R694, at Phelan's Hardware. About 3 miles – take 2nd (R) turn at green grass triangle L1810 for Clontubrid – Before crossroads driveway on (R) to stone house.
Please phone 056 7752258 to check if class is running and for availability
Please note – we do not offer refunds. Pilates begins slow, and you are not always sure after the first night what you are doing, if you are going to get the  hang of it, or gain benefit we urge you to stick with the course and after a few weeks you will start to "Get it"
Find Our Physiotherapy Clinic – 7 Maudlin St., or Our Pilates Studio & Gym – 4 Castle View Appts, Dublin Rd.
Find our Physiotherapy Clinic & Pilates Studio in Freshford
Our aim is to provide a high quality service where we not only attempt to relieve you of your current complaint but to discover why it occurred in the first place, recognise any predisposing factors in your body, your work or recreation, and offer a comprehensive course of treatment or exercise programme to try and prevent future occurrences.
Recognised By The Following
Professionals who are not just going through the motions. If you want long term results, and the possibility of a pain-free future, this is the place to go.

As manager of the team, it has been my privilege to work along side Theresa. Her professionalism is beyond question and it is wonderful to see the genuine care and interest she has for all our young players.